Hungry blind kitty struggling to survive at a corrupt shelter is rescued moments before tragedy strikes
Meet Mike, a lovely blind tabby cat discovered struggling to survive in a shady animal shelter. A kind rescuer rushed Mike to safety as he was about to be attacked by a rogue dog. Continue reading to learn how Mike escaped a tragic fate and lived happily ever after! One day, Sarah Richardson of Community Cats of Central Arkansas received a phone call from a fellow rescuer with disturbing news.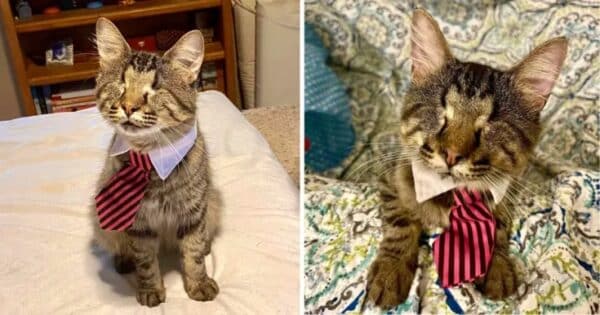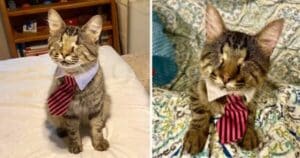 Also see: Paralyzed rescue cat becomes a nurse at a shelter saving lives
"A shelter in Eastern Arkansas was closing down due to allegations of abuse and neglect," Sarah recalled. A small group of Arkansas rescues had banded together to assist in the rescue of hundreds of animals at the shelter.
Sarah was asked to take care of the majority of the cats at the shelter on very short notice. "They didn't have anyone to take care of the cats," Sarah explained.
Sarah was horrified by what she saw when she arrived at the shelter. "There were hundreds of cats and dogs roaming the property." "Those that weren't loose were kept in kennels," Sarah noted.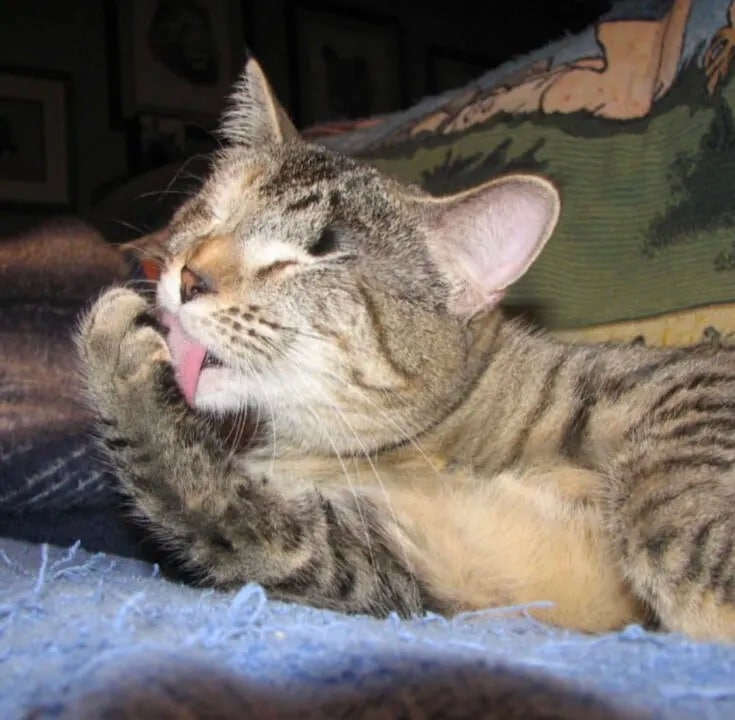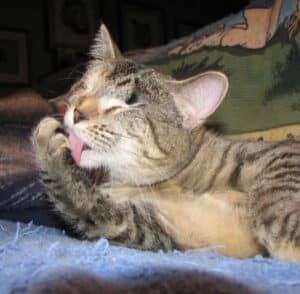 Must see: Lost Cat meets her mom after Year
That's when Sarah first saw Mike, a blind tabby with both eyes missing. Mike was wandering around the property when a leashless dog tried to attack him. Mike was taken to the cat room of the shelter, but he was still in danger. The cat room was a total shambles, with holes in the walls, ceiling, and roof.
In a desperate attempt to survive, cats were hiding in every nook and cranny of the room. The cats could only eat by escaping their kennels and risking their lives to look for food or water among the dogs.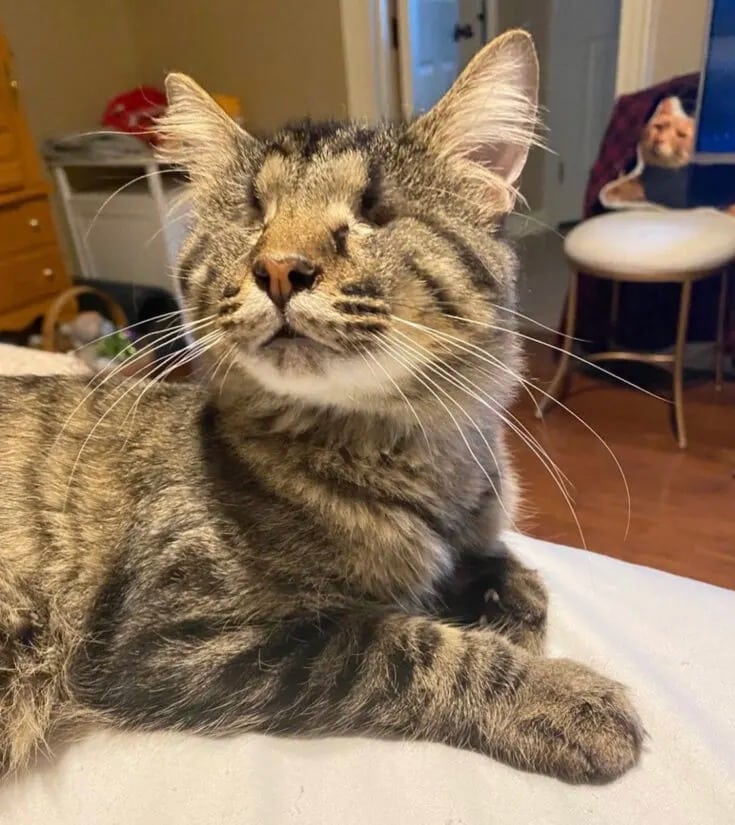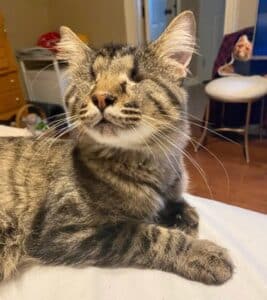 The shelter had abandoned their animals, leaving them to fend for themselves. Mike was at a disadvantage due to his blindness. In these conditions, he wouldn't last much longer.
Sarah intended to make multiple trips to the shelter to transport all of the shelter's 100+ cats, but she knew Mike had to accompany her that day.
"He couldn't wait any longer." "We brought him home right away," Sarah explained.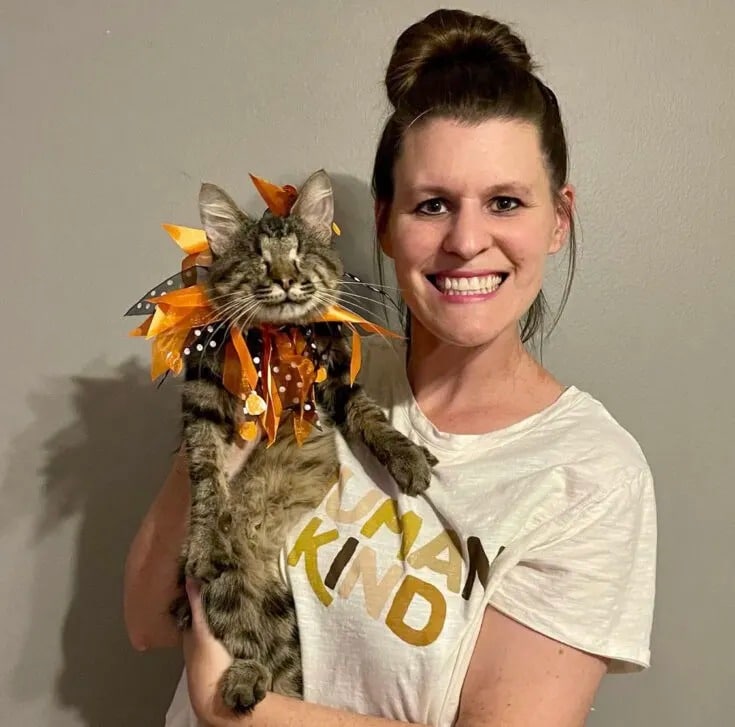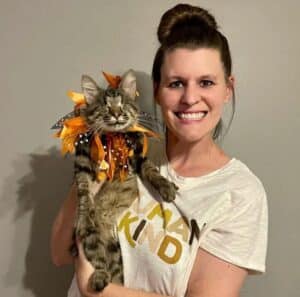 Getting Mike home, however, was only half the battle. It was time to address Mike's health concerns once he was safe in Sarah's home. He had an upper respiratory infection, severe diarrhoea, and breathing difficulties.
Despite his suffering, Mike found it in his heart to love and trust his rescuers. "He's the sweetest cat you've ever met." "All he wanted was to be looked at and held," Sarah explained.
Mike seemed to know he'd been rescued and wanted Sarah to know how grateful he was.
Mike, like most special needs cats, was extremely intelligent and adaptable. He worked hard to find his way out of his foster home, relying on his senses of smell and sound to guide him.
Check now: Redhead Cat Rescued And Adopted by His New Mother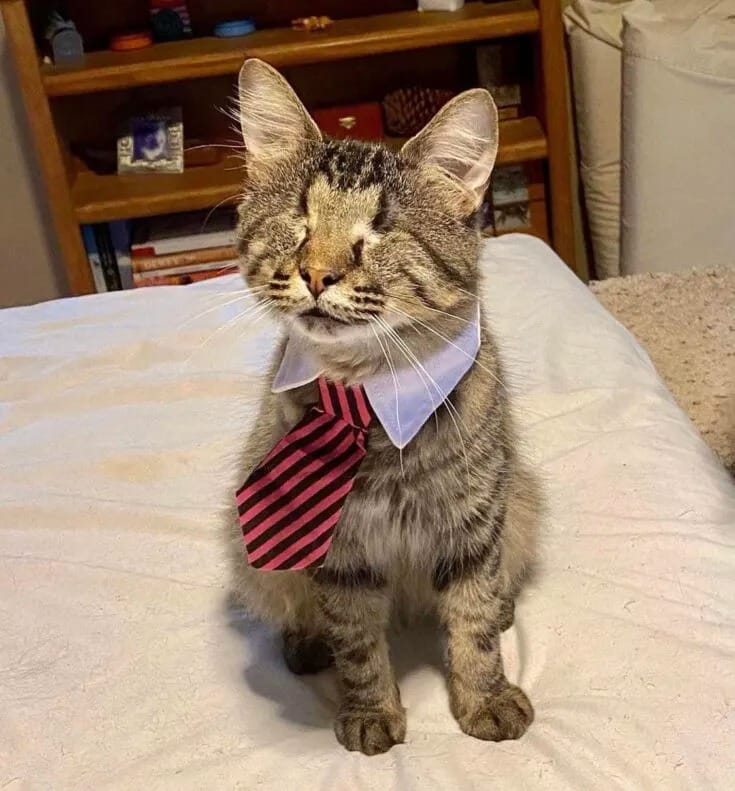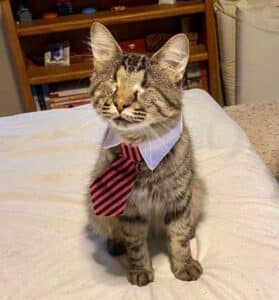 Sarah noticed Mike was also very cautious. In his vulnerable living conditions, he couldn't afford to make mistakes. Mike was given fluids to treat his dehydration, as well as antibiotics and parasite treatment.
He took his medication like a champ! Mike soon perked up and his true personality began to shine through.
Sarah shared Mike's victories and posted updates on social media. Sarah received a heartwarming message about Mike from a kind individual one day.
"One of our fosters has a blind cat with both eyes missing." They offered to foster Mike and eventually adopt him if everything went well," Sarah explained.
Mike was healthy enough to be fostered by someone else after a month of hard working care. He arrived at the foster home and never returned!
Also check: Top 5 Smallest Cats in the World
"Mike made himself at home," Sarah said. "He's in love with his new family!"
Mike will never have to fear being attacked or abandoned outside again. He lives a life of luxury indoors, where he is well cared for. He is surrounded by people who adore him and appreciates the company of his new cat sister, Molly.
Molly is also missing both eyes, making this adorable couple a match made in heaven. She took little Mike under her wing and welcomed him as his new big sister.
"He's terrified. He truly found the ideal home!" Sarah yelled.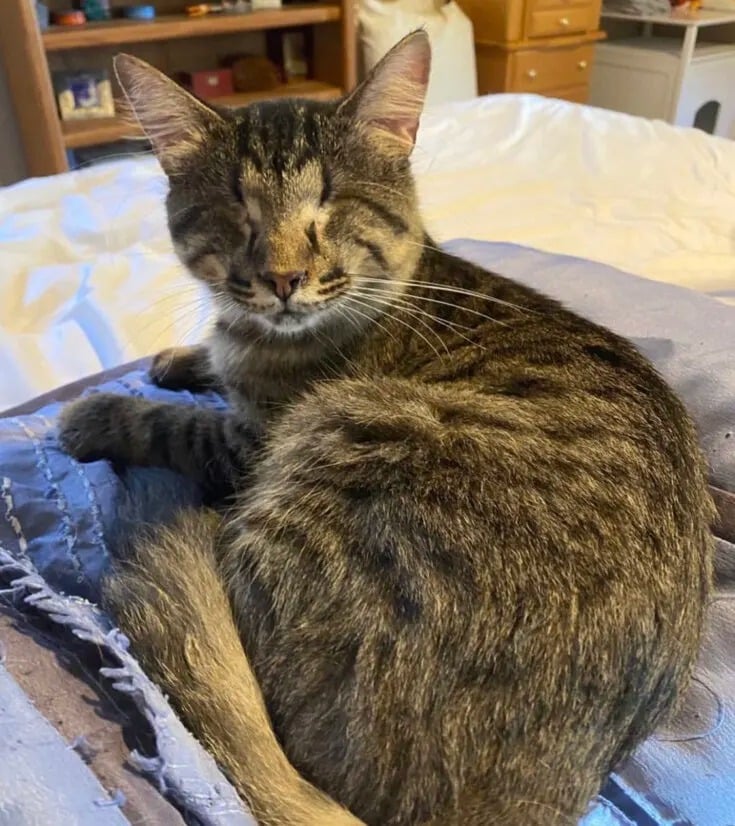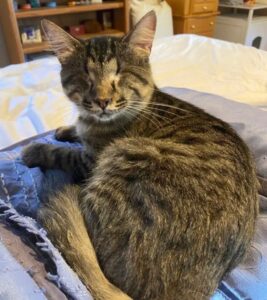 "The ets are still trying to figure out what bacteria he has," Sarah explained. "He has an appointment with a specialist very soon."
Sarah Richardson is one of Arkansas's few rescuers who rescues and rehabilitates senior cats, hospice cats, and critically injured cats.
Bless Mike, and I wish him a speedy recovery.